Welcome to IGS Industries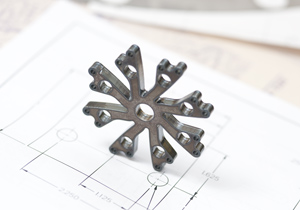 IGS Industries is a custom part and sealant manufacturing company of over 150,000 square feet. We offer both stock and custom metal work parts; non-metallic parts; brand-name and custom sealants; gaskets; shims; auxiliary products; and specialized services to best accommodate your business needs.
Founded in 1961, IGS, Inc. has grown from 3 to over 120 team members and has a worldwide customer base. IGS has been providing its customers with cost-effective manufacturing solutions for prototype, low-volume, and high-volume production work.
IGS Industries has a strong commitment to our customers' needs. We develop a team around your business and that team remains with you as they learn more about your business; your industry's requirements; technical and industrial challenges; and growth opportunities. We are passionate about making sure our products arrive on time, every time. We know that meeting your deadlines directly factors into successful project outcomes and we are committed to meeting those deadlines with parts designed to your specifications with each and every customer.
We also provide a wealth of other services to help you thrive in your business. From private labeling and access to exotic materials, to reverse engineering and blanket shipping options, we have programs in place that give us the flexibility to meet both your standard and non-standard specifications.
We're here to answer any questions that you may have, and we're always ready to provide a free estimate for your project.
Sincerely,
The IGS Industries Team
[devider type="dashed" space_before="10" space_after="20" /]
[call_to_action title="WANT US TO WORK FOR YOU?" subtitle="See what IGS Industries can do for you" button_color="blue" color="gray" button_text="Contact Us" button_url="/igs/final-request-form"]Request a quote from IGS Industries today![/call_to_action]
[devider type="dashed" space_before="40" space_after="40" /]
The Hearth, Patio, and BBQ Expo!
As North America's largest indoor-outdoor living showcase, HPBExpo is where more than 350 leading hearth, patio and barbecue manufacturers and suppliers exhibit and demonstrate their newest innovations, attracting thousands of specialty and mass market retailers and other professionals. Come and visit us at the expo!

[column size="1/2"]
[/column]
[column size="1/2 last"]


[/column]
[devider type="dashed" space_before="40" space_after="40" /]
[column size="1/2"]
[separator_heading]Recent News[/separator_heading]
[posts category="news" columns="2" count="4" excerpt_length="0" order="new"][/posts]
[/column]
[column size="1/2 last"]
[separator_heading]Why Choose Us?[/separator_heading]
[accordion auto="1"]
[accordion_item title="Our Experience"]
[icon type="icon-flag" size="32" /] Founded in 1961
We first founded our business in 1961. Since then, you can imagine how many unique situations and challenges we've seen. Today, we bring those years of experience to you. When you have questions, we have answers. We're glad to be able to help our customers develop the best solutions to some of their most challenging project requirements.
[/accordion_item]
[accordion_item title="Our Dedication to On-time Delivery"]
[icon type="icon-clock" size="32" /] We Work under Your Deadlines
Our ability to create custom parts and sealants to address your specific needs means little if you don't have your products on time. Because of this, we offer both standard shipping and expedited service to our customers. We can ship your order to anywhere in the world, and we even offer drop shipping options.
[/accordion_item]
[accordion_item title="Our Approach"]
[icon type="icon-plus-circled" size="32" /] We Organize in Client-centric Teams around Your Account
When you're a customer of IGS Industries, we build our internal teams around you. That means you have several people here, each with unique skill sets, who are organized around your business. We grow with you. We come to know your needs as a company. We help identify new opportunities and solutions for your business. Your team is always a phone call or email away, and we're ready to help you with whatever support your business needs.
[/accordion_item]
[accordion_item title="Our Ownership"]
[icon type="icon-user" size="32" /] IGS Industries Is Employee-owned
IGS Industries is an employee-owned company. We take pride in our ownership of our company and actively dedicate ourselves to the growth of our business.
[/accordion_item]
[/accordion]
[/column]